Change selection
2017 Yellow USB Map Update v9.F0 050
Part number U4837-0060-701NAM
Availability

In stock
Product information
PLEASE NOTE:
The User Guide for this product contains an error as to the location of the USB port used for the map update. For the Civic, CR-V, CR-Z and Fit – the correct USB port used to install the map update is located in/behind the glove box.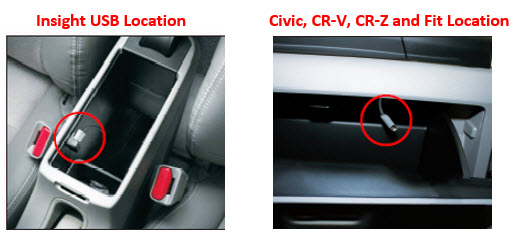 Hit the road with the latest navigation information at your fingertips. With the new Honda 2017 USB Map Update, your direction will be guided by a system that promises optimal performance and identifies new highways, subdivisions, businesses and points of interest. With map coverage that includes the United States, Canada, Hawaii, Alaska, Puerto Rico and the U.S. Virgin Islands -  your Honda will be equipped for travel both near and far. 
Your navigation system Device ID, Database Version Number and Vehicle Identification Number (VIN) are needed in order to purchase a map update.  Click here for assistance in locating these numbers.
In the box

1x Navigation Map USB

Coverage

Map coverage that includes the 50 United States and Canada, your Honda will be equipped for travel both near and far.

Compatibility

Compatible with the following vehicles:

Civic 2012 - 2013

CR-V 2012 - 2014

CR-Z 2013 - 2015

Fit 2012 - 2013

Insight 2012 - 2014