How to find the ID's for your Pink Navigation USB
Compatibility
➝ Honda Civic : 2014 – 2015
➝ Honda CRV : 2015 – 2016
➝ Honda CR-Z : 2016
➝ Honda HR-V : 2016 – 2017
➝ Honda Fit : 2015 – 2017
You will be able to locate the numbers from a single location. Please follow the steps outlined below.
1.. Turn on ignition and allow navigation system to complete the start-up sequence.
2. Press the INFO button on the touch screen.
3. Press the MENU button (on left bezel).
4. Select SYSTEM/DEVICE INFORMATION on the touch screen.
5. Select SYSTEM/INFO on the touch screen
6. The following information appears. You can print a copy of this page and record the values here: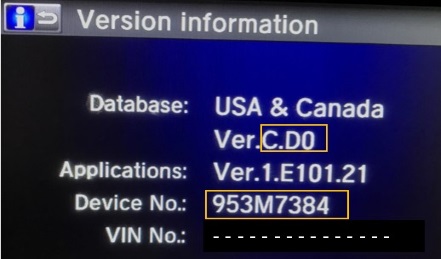 (EXAMPLE ONLY)

Your Database, Device and VIN are unique to you. Do not use a Database version from a previous purchase. If you enter incorrect data you will receive the wrong product.
● Database Version:
Note: Enter Periods, Case-sensitive
● Device number (at least 8 digits):

Note: Not case sensitive. No Dashes or Hyphens
● VIN CODE (17 digits):

Print Instructions